 Tips of Exciting Hangout with Friends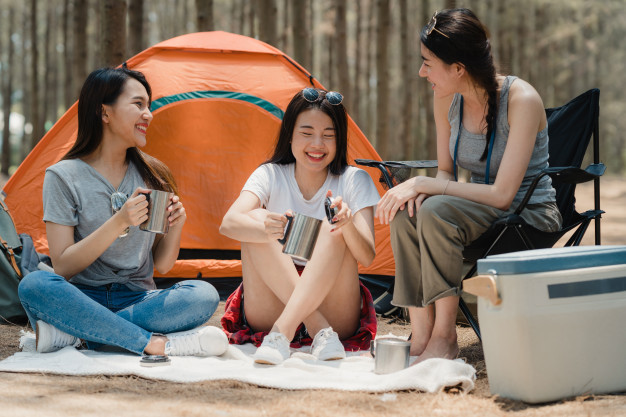 Who doesn't like hanging out and chilling out? Hangout certainly becomes one of the youth's favourite activities. Besides it could refresh the mind after all-day study or work, this also can be a way to gather with friends. You certainly don't want your hangout event to become boring and plain. Are you the kind of person that needs tips on exciting hangouts with friends? Don't worry! Dua Kelinci peanut can be the perfect #TemanKebersamaan for you. Let's check some tips on exciting hangouts with friends with Dua Kelinci.
Choose the Right Spot
The first tip of exciting hangout with friends and Dua Kelinci is choosing the right spot. A good location could be a place where you can get Instagram-able pictures. While waiting for your friends that are capturing moments of togetherness in their favourite spots, you can enjoy Dua Kelinci peanut and take pictures with your favourite snack. It will make your Instagram-able picture hunts become more exciting.
Do Picnic in City Park
The second tip is having a picnic in the city park. City Park usually offers a mild and calm atmosphere. You can enjoy your chilling time with friends while snacking the Dua Kelinci Peanut. This way is easy to do, right?
Movie Marathon till Getting Bored
If you are a movie freak, movie marathons till getting bored with friends is obviously an interesting choice. Watching a movie with friends would be more exciting if we have Dua Kelinci Peanut as a companion. Who says watching movies must always be with popcorn? Dua Kelinci Peanut is also able to make your watching activity become super duper exciting.
Those are three tips of exciting hangouts with friends and Dua Kelinci. Prepare Dua Kelinci Peanut as #TemanKebersamaan that is certainly suitable as a companion when enjoying chill time with your close friends. Besides the taste is good, it is also easily found in the nearest stores. So, don't forget to bring Dua Kelinci when you are hanging out!