 Dua Kelinci 35th Anniversary! This Prize is Ready to be Yours!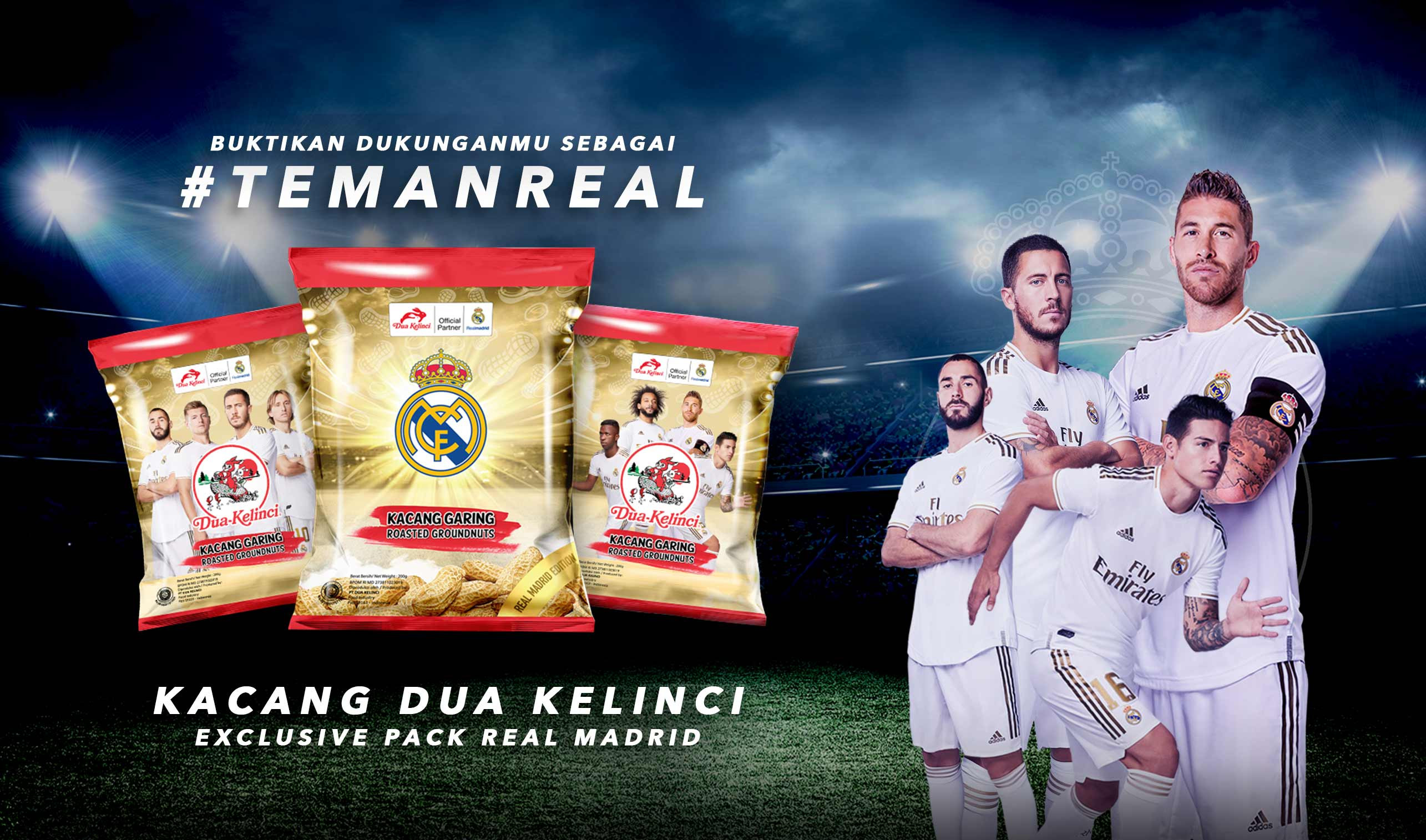 Time flies by and on 15th July 2020, Dua Kelinci will enter his 35th anniversary. It's a really long journey to be on this point. Dua Kelinci is able to survive and still exist because of the support and the loyalty of Indonesian society to this legendary peanut. To appreciate every support from loyal customers, Dua Kelinci offers interesting prizes! Let's check the terms and conditions below.
1. Follow our Instagram account at @duakelinci.
2. Purchase any Dua Kelinci Real Madrid Special Pack products and other products of Dua Kelinci for every minimum purchase, IDR 35.000 (not including delivery fee) on Dua Kelinci Official Store in the market places such as Tokopedia, Shopee, Bukalapak, Lazada, and the offline store.
3. Make a birthday quatrain as creative as you can in a picture or video on your Instagram Stories by holding Dua Kelinci Read Madrid Special Pack.
4. Edit your birthday photo or video by using Giphy stickers of Dua Kelinci.
5. Mention @duakelinci and tag three of your friends to participate.
6. Use hashtag #SelaluAdaDuaKelinci #DuaKelinciRealMadrid.
7. Highlight it and name it Dua Kelinci RM.
8. You are allowed to submit more than one photo or video.
9. The most creative winner will be announced at the end of the event period by Dua Kelinci
10. The winner of Special Pack Real Madrid activity will only be selected from the purchase period in the eCommerce Official Store of Dua Kelinci (Tokopedia, Shopee, Bukalapak, and Lazada) from 15 July 2020 - 2 August 2020.
11. The Birthday Card Posting Period is from 17 July 2020 - 2 August 2020.
12. Eight lucky winners will get a chance to choose selected official merchandise of Real Madrid. Three winners prize worth for 3.000.000 IDR and for five winners prizes worth for 1.500.000 IDR.
13. Purchase and procurement of the merchandise in shop.realmadrid.com will be assisted by Dua Kelinci team.
14. The winner decision is absolute from Dua Kelinci and can not be challenged
15. The winner is expected to keep the receipt for winner verification.
So, those are the terms and conditions to participate in this giveaway of Dua Kelinci 35th anniversary. Upload your birthday greeting photos or videos and grab a chance to get official merchandise from Real Madrid. Don't miss this exciting giveaway! Let's celebrate the Dua Kelinci 35th anniversary and be one of the winners!